The Ultimate Audiometer Calibration System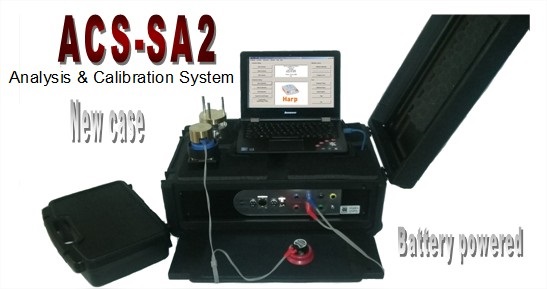 Calibrate audiometers quickly and accurately! Performs an exhaustive calibration on all types of audiometers, tympanometers, ABR and OAE instruments. Select an instrument from the list and the ACS sets the headphone type, impedance and steps you through the correct calibration routine designed for that audiometer make and model. Calibrations conform to ANSI S3.6 and ISO 60645 specifications.
Click here to download a product brochure
The ACS controls the audiometer and automatically makes adjustments with no interaction from you. Print out a customized calibration report on the built in printer, complete with color graphs and your company logo.

NEW! - Optical Handswitch - click for more information.
Visit us at the AAA Meetings in New Orleans in April 2020!
Key Features
Automatic calibration via serial or USB interface on many common models
Exhaustive calibrations in about 6 minutes (longer for clinical models)
Handswitch and sound room 1/3 octave band tests
Audiometer specific calibrations
Track customers, audiometers, headphones, companies, leads and more
Customized calibration reports
One, Two and Six channel systems
Accurate and complete calibrations
Captures "Pre-adjustment" values during automatic calibration
Calibrate Headphones, Inserts, HF phones, Bone Oscillators
Calibrate Tympanometers
Calibrate Auditory Brainstem Response (ABR) instruments
Calibrate Otoacoustic Emissions (OAE) instruments
Increased productivity
Built in ANSI and IEC standards
Expand your customer base